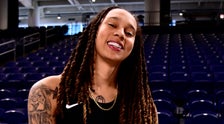 WNBA player Brittney Griner was arrested on drug charges in Russia in February after she was found carrying hashish oil, according to Russian officials.
The Russian Federal Customs Service issued a statement on Saturday saying that a United States citizen was detained in the country's Sheremetyevo Airport last month after customs workers found vapes containing cannabis oil in her luggage.
Multiple Russian news outlets, including TASS and Lenta.ru, later identified the person as Griner.
Griner, 31, is a center for the Phoenix Mercury and won an Olympic gold medalist with the U.S. women's national basketball team in 2016.
Russian officials have opened a criminal drug smuggling case against Griner, which carries a penalty of five to 10 years in prison.
"We are aware of and are closely monitoring the situation with Brittney Griner in Russia," the Phoenix Mercury said in a statement sent to ABC15. "We remain in constant contact with her family, her representation, the WNBA and NBA. We love and support Brittney and at this time our main concern is her safety, physical and mental health, and her safe return home."
This is a developing story. Please check back for updates.