The Malaysian Civil Defense managed to catch a huge crocodile with a length of 5 meters, weighing an estimated 700 kilograms, in Babar area in the Malaysian part of Borneo island, today, Tuesday, after it was caught by fishermen and a team from the civil defense in the east of the country, and the crocodile was handed over. Wildlife officials in Malaysia.
Local officials in Malaysia have estimated that there are between 10,000 and 13,000 estuarine or saltwater crocodiles, the world's largest human-eating reptile, in dangerous proximity to fishing villages along rivers and bays in the Malaysian states of Sabah and Sarawak, in Borneo.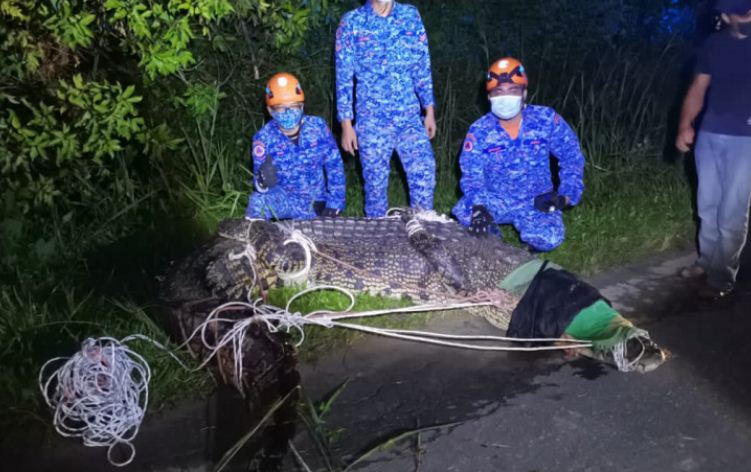 A picture of catching a crocodile
The dangers posed by these predators were highlighted by frequent flooding, as the body of a 30-year-old man was recovered from a river in Sarawak in May after being attacked by a crocodile.
Richard Limbang, a local resident, said the villagers saw the crocodile again yesterday evening and called the civil defense forces, and the giant reptile was captured about 100 meters from where it was last seen.
The moment the civil defense force men arrived, the residents also began to gather, bringing with them things like ropes to catch the animal, then the crocodile was brought to the wildlife department and the inspection found that the reptile was about 5 meters long and close to 700 kg.
This is the second capture of a giant crocodile this morning. Last June, villagers in a water village near Pulau Jaya discovered a 4-meter crocodile swimming in the sea near their area and managed to catch the animal.