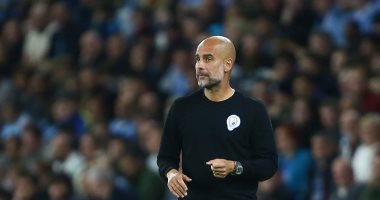 Pep Guardiola, coach of Manchester City, spoke about his team's overwhelming victory over Wycombe 6-1 in the match that took place between them on Tuesday evening at the "Al Ittihad" stadium, as part of the third round matches of the English League Cup for the current season 2021/2022. .
"Thank you very much to the fans for coming today, because I'm sure they had a lot of fun," Pep Guardiola said after the match.
Pep Guardiola added: "All the players gave a great performance, the experienced players gave support to the youngsters, thank you to all of them."
Guardiola stressed: "I have a feeling that there are talented players in the club's academy, they don't ask for much, and their faces are not pale, I am very proud to be the coach of this club!"
Guardiola continued: "We have great young players who can develop for the future of the club, thanks to the other coaches in the age groups for doing their job to the fullest."
Pep Guardiola confirmed: "Man City has a great generation of young players. Perhaps in the future, they will be as important as Phil Foden. It depends on them." Guardiola said: "It's one of the nights I like to be a coach."
The goals of the match came through Brandon Halnon in the 22nd minute for Wycombe, before City returned with two consecutive goals through Kevin De Bruyne and Riyad Mahrez (two goals), Phil Foden, Ferran Torres, and Cole Palmer in the 29th, 43rd, 45th and 71st minutes. , 83, and 88, respectively.
The Manchester City line-up is as follows: Stephen, Eagan Riley, Mbeti, Burns, Wilson Esperand, Sterling, Lafia, De Bruyne, Foden, Mahrez, Torres.