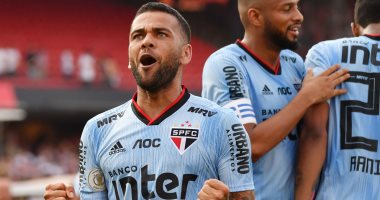 Sao Paulo club announced today, Friday, that its player Dani Alves, 38, refused to attend training and stipulated that he receive a debt of two million resulting from the delay in paying his salaries in order to continue with the team.
"Dani Alves has informed us through his agents that he will not return to the club until the financial debt owed by Sao Paulo to the player has been settled," said Carlos Belmont, São Paulo's director of football. He also admitted that coach Hernan Crespo had received notice that the player "It won't be available to him anymore."
Alves and Miranda, the center of the defense of the Sao Paulo team, were participating with the Brazil national team during the last international break that took place from 2 to 9 September.
Both players should have joined Sao Paulo's training today, but only Miranda joined, Belmont said: "Miranda joined and trained normally, unlike Alves."
The Sao Paulo club management admitted that it owed two million to the former Barcelona player, worth, according to press reports, 11 million Brazilian riyals (about 2.2 million dollars).
Belmont added that the Brazilian club's management submitted a proposal to pay the amount, but Alves' business agents rejected this proposal.
Without giving further details, the administration informed Argentine coach Crespo that "Dani Alves will no longer be available to work in the team."
"It is important to remember that São Paulo is more important than all of us, none of us are greater than São Paulo," Belmont said.
The club's director of football added that its judicial and financial departments will continue their negotiations with Alves' agents to repay the debt.
It is noteworthy that Alves, who is considered one of the most decorated players in the world, joined Sao Paulo in the summer of 2019, and played 95 matches with him, scoring 10 goals and winning the Paulista Cup this year.