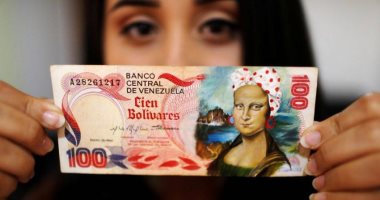 Venezuelan artist and medical student Eliane de Gregorio is using old bolívar banknotes to paint various paintings, in an attempt to revive the value of its local currency after recent reforms that made its actual value useless.
The 24-year-old artist seeks to give the bolivar bills that some throw in the trash a new value in the hope of restoring their former glory, after the deterioration that afflicted her as a result of hyperinflation, which the state faced early last month by removing 6 zeros from the currency and issuing new banknotes.
And the website "Canadanews" quoted the artist as saying that the paintings transform people's view of the bolivar banknote into a more positive image instead of the negative character that the economic crisis left on it.
Eliani's works, which simulate a number of famous paintings, will be displayed in a virtual exhibition in New York next December.
The artist said that she intends to draw on banknotes from other countries that have faced similar inflation problems, indicating that "this is my way to build the Venezuela that I want in the future, and my attempt to recover the value of the coins that have lost their usefulness as a result of the ongoing economic crises."
It is noteworthy that the state of economic inflation had prompted artists in Zimbabwe to convert banknotes from the era of the late President Robert Mugabe into paintings.