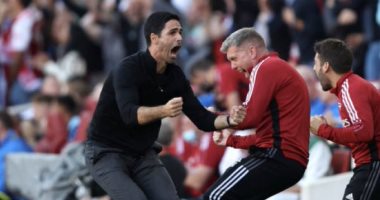 Arsenal coach Mikel Arteta confirmed that his team's first half against Tottenham today is the best for the Gunners ever this season, after the Gunners finished 3-0 in their favour.
The Gunners defeated their neighbors, Tottenham, 3-1, during the match that brought the two teams together this evening, Sunday, at the "Emirates" Stadium, the Gunners' stronghold in the north London derby, at the top of the sixth round of the English Premier League competition.
"In the first half we played probably one of the best games I've seen this season," Arteta said during his post-match remarks. "I'm proud of the way we're playing, proud that we can give something to the fans."
On the injury of Granit Xhaka, midfielder, Arteta said, "I am very worried because it does not look very positive at the moment."
And Arteta sent a message to Arsenal fans, saying, "Thank you for encouraging this wonderful environment for the team you planted in them. This victory is for you to enjoy tonight."
Arsenal vs Tottenham
Emile Smith Rowe scored the first goal for the Gunners through a pass from promising Bukayo Saka, after only 14 minutes, and the second goal came through Pierre-Emerick Aubameyang in the 27th minute, before Bukayo Saka scored the third goal in the 34th minute.
In the second half, the score continued as it was until the South Korean star Son Heung-min reduced the difference for the Spurs in the 79th minute, ending the match with a 3-1 victory for the Gunners.
With this result, Arsenal occupies tenth place with a second consecutive victory with 9 points, while Tottenham is 11th with the same balance of points.