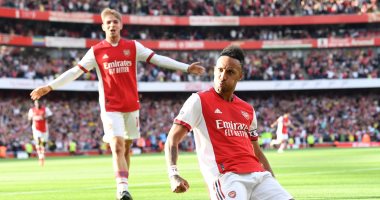 Arsenal striker and captain Pierre-Emerick Aubameyang confirmed that the players' conversation in the dressing room greatly helped Arsenal's recent improvement in the English Premier League.
Aubameyang scored in the Gunners' 3-1 win over Tottenham Hotspur at the Emirates Stadium in the north London derby on Sunday afternoon, with Arsenal now winning three consecutive league matches.
"I think after the match against City, it's time for a chat between us players, and that's what we did," the Arsenal captain said in comments published by the English newspaper "Daily Star".
"We want to go ahead and win matches, that was important for us to clear things up, and I think we are doing well now and the feeling is good."
He continued: "It means everything, it means the world, we gave everything to them today, they pushed us, I can't describe it, it's a great feeling when you're a player and you have fans like this, it's really unbelievable."
He continued, "It's so easy when you have boys like this who are always listening and always ready to learn, so it's really easy. I try to give them advice sometimes but it's important that they feel free when they play and that's what they did when they played and that's why it is." just awesome".
And about his goal, he said: "I think it was a great goal, great job, Kieran gave me the ball and I knew Emil was going to run and I had to follow him, then he gave me a good cut and he played with them."
He continued: "You know Arsenal can be proud of these boys because they are great guys who are doing well, and I'm glad my kids will one day grow up to be like him."