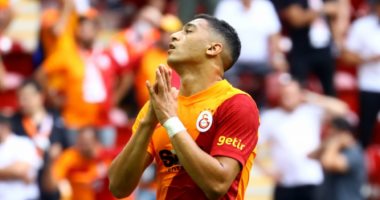 Fatih Tarim, the coach of the Turkish club Galatasaray, expressed his happiness with his team's victory over Goztepe in the Turkish league, indicating that he is waiting for more from our national team striker Mustafa Muhammad.
Galata Saray regained the memory of victories in the Turkish league, after defeating its guest, Goztepe, 2-1, in the meeting that brought the two teams together on Sunday evening, at the "Turk Telecom Arena", in the seventh round of the competition, and Mustafa Mohamed participated in the third minute of the match. Overtime for the match, after entering as a substitute for his colleague Karim Akturk.
Fatih Tarim said, in statements to the club's official website: "I am very happy that we were able to win. We got the three points we deserved today. It was difficult, but we played very well in the second half."
He added: "The team fought well. I am happy with the support of our fans, and I thank them on behalf of my players. I was very happy to see the fans in the stadium. We have many players waiting and I expect more from them, from goalkeeper Muselra to Mustafa Mohamed, Diani and Emre Kilinic."
Galatasaray won its first victory during the month of September in the Turkish League, where the last victory of the team in the competition dates back to August 23, at the expense of the Hatay Sport team, with a score of 2-1.
Galatasaray raised its score to 11 points to occupy the tenth place in the Turkish league standings, while the balance of Goztepe team stopped at 5 points in the eighteenth place, and Fenerbahce team tops with 16 points.