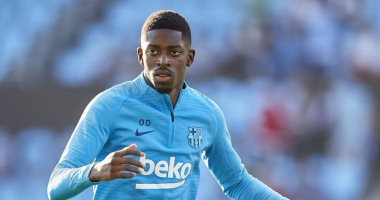 The Barcelona administration sent a strong message to the Frenchman, Othman Dembele, regarding the renewal of his contract, which expires in June 2022. Dembele is still continuing the rehabilitation process for his injury, in preparation for participating with Barcelona during the coming period, as he has not appeared in any match so far during the current season 2021-2022. .
And according to the Catalan newspaper, "Sport", the Barcelona administration is asking Othman Dembele to resolve the file to renew his contract, which expires in June 2022, either by sitting at the negotiating table to resolve the renewal file, or announcing his desire to leave at the end of the current season.
The newspaper added that Barcelona officials refuse to delay Othman Dembele in the renewal file, and demand that he resolve the matter within the next few days.
Barcelona President Joan Laporta held a session with Dembele and his agent, Moussa Sissoko, in the presence of Vice President Rafa Yusti, and Director of Football Matteo Alemani.
It is worth noting that Barcelona signed Ousmane Dembele from Borussia Dortmund in 2017, for a period of 5 years, for 105 million euros.