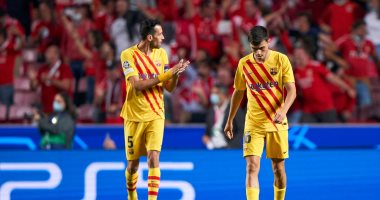 Barcelona captain Sergio Busquets admitted that the team's situation was "critical" after the 3-0 loss to Benfica at the "Al-Nour" stadium, leaving Barca without points after the first two rounds of the Champions League group stage..
And the Barcelona midfielder considered, in statements to the TV channel (Movistar Plus), that "it is difficult to explain what happened" during the match that was held on Wednesday evening..
He continued, "We were not decisive, either in defense or in attack. We conceded the first goal quickly, but the team was good after that. It created an imposition even though we did not take advantage of it."".
Asked about the possible dismissal of Ronald Koeman, Busquets replied, "It's the easiest thing in the world of football," but everyone has "responsibilities."".
On Barcelona's chances of qualifying for the next stage of the Champions League, he said: "It's only two rounds and we don't have any points. It's complicated and we have to think about going up by winning the two games against Dynamo Kiev.".
Barcelona suffered the second consecutive loss in the Champions League this season, after losing to Bayern Munich in the first round at the Camp Nou.
Barcelona is at the bottom of the Champions League group E table, without any points, while Benfica is second with 4 points collected from a tie with Dynamo Kiev in the first round, and a victory over Barcelona.