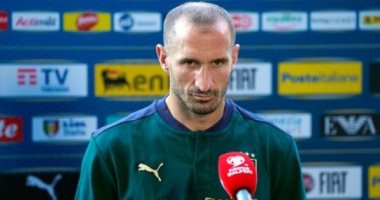 The captain of the Italian Juventus team, defender Giorgio Chiellini, suggested that Swiss international Manuel Akanji, the German defender of Borussia Dortmund, be a suitable alternative for him in Juve, after his retirement from football in the future.
The Italy captain is expected to start tomorrow's World Cup qualifier against Switzerland, and spoke to RSI The Swiss about the match and the Swiss players he particularly liked.
"I've always been fascinated by Akanji, because he still has so much more to offer, and in my opinion he's approaching the right age to really reach his peak, but he still needs that final step," Chiellini said.
Asked if he would recommend the heart of the 26-year-old Borussia Dortmund to Juventus?, he commented: "My place will be vacant soon when I retire, so there will be a chance."
Chiellini has just signed a new two-year contract with the Bianconeri and hopes to represent Italy at the 2022 World Cup.
He commented, "I am a player and also like the big brother to many of my teammates, because of my age and experience. The great thing about this band is that everyone adds their little ingredients to the recipe and makes it really special."
There will be 31,000 people in St. Jacob's Park in Basel tomorrow evening, about half of whom support Italy.
"We are happy, as we felt during the Euros, a lot of affection from Italians abroad and those Italians of the second generation, it makes you feel more patriotic and proud to be Italian," commented the veteran player.