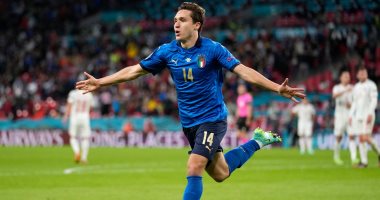 Juventus coach Massimiliano Allegri received a severe blow from the injury of Federico Chiesa, the old lady's striker with the Italian national team, before the Napoli match next Saturday, in the top of the third round of the Calcio competition.
According to the Italian newspaper, La Gazzetta dello Sport, Federico Chiesa suffered a muscle injury that will lead to his absence from the Italian national team against Lithuania, in the match scheduled for nine in the evening today, as part of the sixth round of European qualifiers for the 2022 World Cup in Qatar.
She added that Federico Chiesa would put the Juventus attack in big trouble, before facing Napoli in the fiery summit of the third round of the Italian League competition next Saturday, at the "Diego Armando Maradona" stadium.
And the newspaper concluded that if Chiesa is absent from Juventus against Napoli, Allegri aspires to join him in the match against Sweden in order to face Malmo in the first round of the group stage of the Champions League.
It is worth noting that the Italian national team will miss the duo Lorenzo Insigne and Shiro Immobile against Lithuania this evening, in the fourth round of the European qualifiers for the 2022 World Cup.