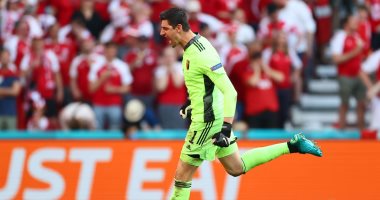 Belgian goalkeeper Thibaut Courtois, Real Madrid, celebrated his return to the Santiago Bernabeu stadium, where the "Merengue" inflicted a humiliating defeat on its guest Celta Vigo, and participated in the memorial of former club president Lorenzo Sanz and the former players who died due to the epidemic.
Curto wrote on his website: "After a year and a half, we returned to our stadium, where it all began for me and I was able to meet our fans. After 560 days, the wait is finally over.. More important than scoring against Celta Vigo was the 25,000 fans, who They encouraged us."
He added, "We are happy that we were able to give the Bernabéu the honor of its first victory and more will come.. I would like to dedicate this victory to our former president Lorenzo Sanz and to all the former football players who lost their lives last year."
Courtois spoke to Real Madrid fans, stressing that he hoped they would feel proud, and also highlighted the importance of encouraging them from the Bernabéu stands.
Real Madrid beat Figo on Sunday evening with five goals to two goals in the fourth round of the Spanish First Division "La Liga", which was hosted by the (Santiago Bernabeu) stadium after 560 days of closure.