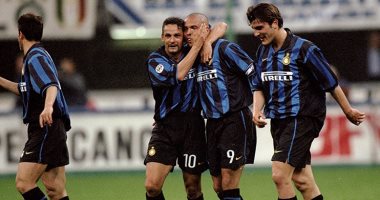 The Italian team, Inter Milan, scored many great goals against its Spanish rival, Real Madrid, during the past years, before the fiery confrontation that brought them together at exactly nine o'clock on Wednesday evening, at the "Giuseppe Meazza" stadium, in the first round of the Champions League competition. Europe in the current season 2021-2022.
And the official channel of Inter Milan published on YouTube, a video of the 10 most beautiful goals scored by the Nerazzurri against the royal team, which were scored by many stars, most notably: Roberto Baggio, Lautaro Martinez, Ivan Perisic, Tardelli, Facchetti.
The Inter Milan team had fallen into the trap of a draw against its host Sampdoria, with a score of 2-2 in the match that brought them together on Sunday afternoon, in the third round of the Italian League competitions, at the "Luigi Ferraris" stadium.
With this result, Inter Milan raises its score to 7 points in fourth place in the Italian League standings, while Sampdoria reaches 2 points in 15th place.