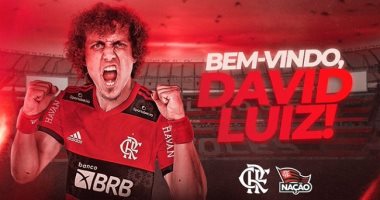 Brazilian defender David Luiz said on Monday, during his presentation as a new player for Flamengo, that he is ready to face "all the challenges" of the Rio de Janeiro team, as he hopes to write "one of the best pages of his sporting career".
"Returning to Brazil does not turn the page. It will undoubtedly be one of the best pages that I will live in my career," David Luiz said during his presentation ceremony for a new player in Flamengo under a contract that runs until December 2022.
The 34-year-old arrived at Flamengo, the Brazilian league champion, after a long career in European football, where he defended the colors of Benfica, Chelsea, Arsenal and Paris Saint-Germain.
In his first press conference as a player for the Brazilian club, he said: "Flamengo has always been great and will always be that way. I am always grateful to God for being here today."
"I know I'm making the right decision," added the star, who will wear the number 23 shirt in Rio de Janeiro, even though it was a difficult thing.
He pointed out that the flamingo represented "another great challenge" in his life and an enormous "responsibility" that he naturally bears.
When asked if he hopes to return with the Brazilian national team, David Luiz said he is now focused "totally" on "face all the challenges" and "ambitions" that Flamengo present.