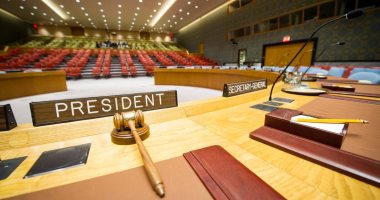 The United Nations Security Council is organizing a session today, Wednesday, to discuss the challenges facing the maintenance of international peace and security. The briefing of the council session is provided by the Secretary-General of the United Nations, Antonio Guterres, Chair of the African Union Commission, Moussa Faki Mahamat, and the former President of Liberia, Ellen Johnson Sirleaf..
According to the report of the Council, the maintenance of international peace and security still faces great challenges, as it remains difficult to achieve lasting peace and sustainable security in many parts of the world, especially in the fragile contexts of the African continent, where there is a variety of security, social, economic, political and environmental. . The pressures put the population under great stress, which led to the risk of violence and conflict.
The report added that the open discussion will be an opportunity to discuss how unaddressed fragility issues, particularly in Africa, can lead to new cycles of violence, exacerbate and prolong existing conflicts, and become drivers of regional instability through their indirect impact..
The discussion can provide insight into how the Council can best integrate the analysis of the interaction between fragility and conflict into better addressing international peace and security and how actors and local communities can better inform this interaction..