The International Football Association (FIFA) praised the achievement of the Egyptian star Mohamed Salah, the Liverpool player, by joining the club of the hundred in the history of the English Premier League competition, after opening the first goals of the Reds against Leeds United, in the confrontation between them currently at the "Island Road" stadium. ", in the fourth round of the Premier League for the current season 2021-2022.
And FIFA wrote through its official account on the social networking site "Twitter": "Egypt's flag, Mohamed Salah, joined his goal today against Leeds United in the list of 30 players who scored 100 goals in the English Premier League."
The International Federation added, "Only 4 players reached this number of goals with fewer matches than Mo Salah."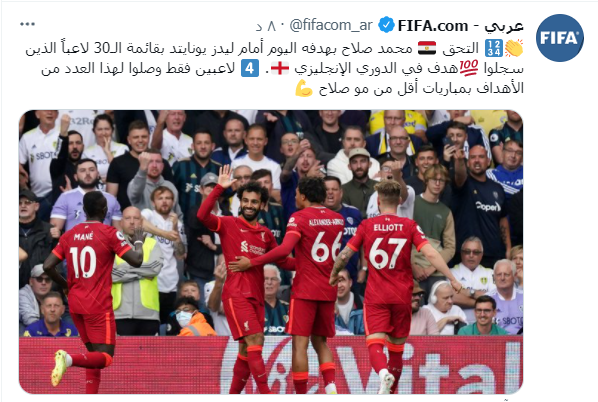 Mohamed Salah raised his score to one hundred goals in the English Premier League, where he scored 98 goals in the Liverpool shirt in the Premier League, in addition to two goals with his former team Chelsea in the competition during the 2013-2014 season.
Mohamed Salah became the fifth fastest player to reach 100 goals in the Premier League, as the Egyptian star scored his 100 goals in 162 Premier League matches.
The Egyptian star became the 30th player to score 100 or more goals in the history of the English Premier League, and the second African player to achieve this achievement after Ivorian star Didier Drogba, who has 104 goals.