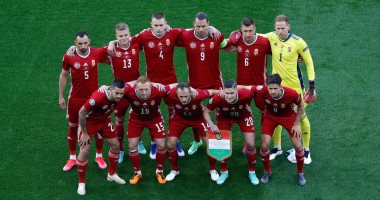 Today, Tuesday, the International Football Association "FIFA" announced the sanctions imposed on the Hungarian national team due to the racist chants of the fans during the confrontation with the England team, in the European qualifiers for the 2022 World Cup in Qatar..
FIFA decided in an official statement to deprive the Hungarian national team of public attendance in two consecutive matches, with the suspension of the implementation of the penalty in the second match for a period of two years, and it will be applied if the fans repeat the act again.
The International Football Association also decided to fine the Hungarian Federation about 217,000 dollars, which is one of the largest financial sanctions imposed by FIFA.
In its statement, FIFA stressed its firm stance and always rejects any form of racism, violence and any other form of discrimination or abuse.
The English Football Association had criticized the racism that Raheem Sterling, the star of the Three Lions and Manchester City club, was subjected to, along with some England players, during the Hungary match.
The England team defeated Hungary, by four clean goals, in the match that brought them together at the Ferenc Puskas Stadium, as part of the fourth round of Group I matches in the World Cup qualifiers.
The match witnessed racist chants from the audience, and the fans threw some projectiles at Sterling, including soft drinks.
The FA said in its statement: "It is extremely disappointing to hear reports of discriminatory actions towards some England players. We will ask FIFA to investigate the matter. We continue to support players and staff in our collective determination to highlight and address discrimination in all its forms."