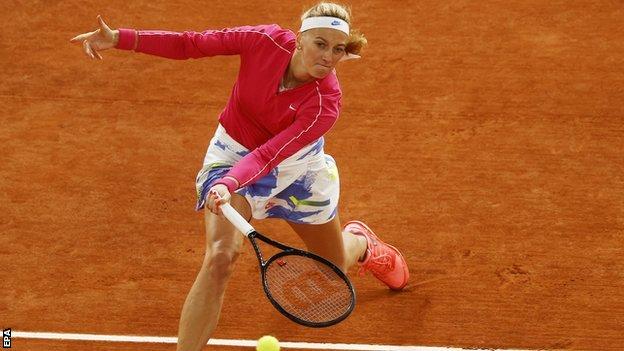 Petra Kvitova held back tears when closing out for victory in the French Open on Monday as memories of her return to tennis in 2017 after a knife attack came to the fore.
The Czech, 30, suffered a career-threatening hand injury in the incident in her own home, but made her comeback at Roland Garros six months later.
"Everything just came back to me," the seventh seed said.
"As I'm talking, I'm getting emotional again. It's been a long ride."
Kvitova was 26 when the events – described as a burglary – happened in Prostejov, Czech Republic in December 2016. During a struggle, she suffered severe lacerations to all four fingers on her left hand – her playing hand – and had surgery.
Her surgeon said the chances of a return to tennis were low, however the two-time Wimbledon champion was holding a racquet again by March. Two months later she was back playing the sport, at Roland Garros.
On Monday, Kvitova was clearly teary-eyed as she completed her 6-2 6-4 win over China's Zhang Shuai to reach the French Open last eight for the first time since 2012.
"I got a bit emotional during the last two points of my match," she said.
"I really started to think still about the match because in tennis we really never know when it's the end. But my memories, happy memories, when I made my comeback here 2017, when I step on the Philippe Chatrier, I couldn't really imagine me to be in the quarter-final of this Slam.
"Everything came to my mind when I had my whole family, people who I loved to helped me through the tough, tough time.
"I don't know, just everything came back to my mind. I just saw them. I was just playing on Philippe Chatrier."
'It was difficult and a tough one'
Kvitova, who has yet to drop a set at the tournament, needed 85 minutes to see off the 31-year-old Chinese player.
She got on top of Zhang by breaking at the start of both sets, two of her four breaks during the match. The Czech was broken only once herself – while serving for the match – but then got over the line in the 10th game.
Kvitova will now face German Laura Siegemund, who beat Spain's Paula Badosa 7-5 6-2.
"It was difficult and a tough one," the world number 11 said of her win. "She served well and played aggressive. I'm happy for the end.
"I've been lucky enough to play on all three big courts. The conditions changed today from windy and cold to like playing indoors when the roof closed."