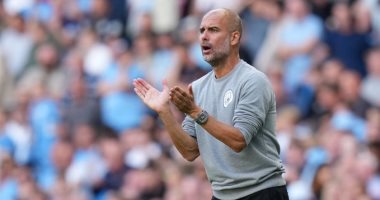 Manchester City coach Pep Guardiola expressed his anger at the result of the goalless draw against Southampton, which brought the two teams together at the Etihad Stadium, in the fifth round of the English Premier League.
Guardiola spoke after the end of the meeting, saying: "Today we were not mentally strong, I will not say in our legs, in our minds, that it is a pity, they had four or five chances and they did not shoot much, we were in the match, but we could not be more decisive in the last third." And I see the result of the tie."
He added: "We did not win not because we did not have a central striker, and we did not win because we did not create better balls for the players in front. We had one shot on the goal, but 4 or 5 shots were blocked."
He continued: "You can rely on the counter-attack or you can be direct, our approach depends on passing the ball from the defense through the midfield to the wings, in this process we all move together. It was difficult, and the opponent was good."
Manchester City

Manchester City's stars failed to solve the mystery of Southampton's defenses throughout the match, despite the many chances that the City players had throughout the 90 minutes.
Raheem Sterling scored a goal in the last minute of the match, but the video technology "VAR" canceled the goal because of an offside against the City star.
The "VAR" technique also canceled the expulsion of Manchester City defender Kyle Walker and a penalty kick awarded by the match referee in the 62nd minute of the match.
Manchester City raised its score to 10 points in the English Premier League standings, behind Liverpool, the leader with 13 points, after defeating Crystal Palace team with three clean points, and Southampton's balance rose to the fourth point in fifteenth place.