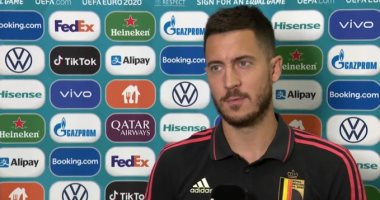 Eden Hazard, the captain of the Belgium national team, and the star of the Spanish team Real Madrid, announced the date of his retirement from international football, accompanied by his country in the coming period, especially with the approach of the 2022 World Cup in Qatar next year..
Hazard said, in the introductory press conference for the Estonia match tomorrow: "Retire from international football? I will continue until the 2022 World Cup, after which I can stop my international duty.".
The Belgium captain added: "Winning the World Cup will be more difficult than winning the last European Nations Cup, because those previous years were Belgium's best years.".
Eden Hazard continued: "This season at Real Madrid will be good, I know it will be a good season for me, but also for Real Madrid, winning matches, getting trophies, scoring goals, finding joy in playing, dribbling, yes of course, I have no doubts about that."
Belgium left the last European Nations Cup Euro 2020 after being eliminated by Italy in the quarter-finals.
The Belgium match against Estonia will start tomorrow at 9:15 pm Cairo time in the European qualifiers for the 2022 World Cup in Qatar..