Stability of weight and stopping your body's ability to burn fat, is one of the most troublesome problems for many, especially those who suffer from excess weight and are always planning to regain their fitness, so some factors may play a role in the stability of your weight and your inability to get rid of obesity, and the most prominent of these factors is hypothyroidism .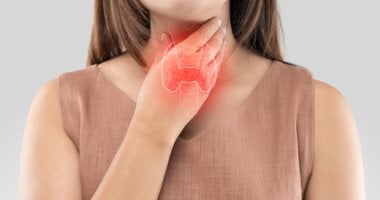 According to a report published on the website, healthlineIf you have hypothyroidism, the numbers may increase on the scale, even if you are committed to your diet and exercise periodically, and experts attributed this to the role of the hormones secreted by the thyroid gland in regulating the metabolism, which also helps your body to burn food to get Energy, when the thyroid gland secretes less of its hormones, as happens in patients with hypothyroidism, the metabolism slows down, so you will not be able to burn calories quickly and you will gain weight. Weight gain is usually not excessive, but it may be enough to affect your confidence.
The more severe your hypothyroidism, the more weight you will gain, and some of the weight gain is fat, but most of it is fluid buildup from the effects of hypothyroidism on kidney function..
Experts advise treating hypothyroidism, and taking the medication prescribed to you by your treating doctor, which is to get a daily dose that contributes to increasing thyroid hormone production again, and once you get the correct dose, your weight should stabilize, and you will not have any problem losing Weight more than anyone else.
Experts also recommended the need to follow a diet without deprivation, which allows you to eat low-calorie foods, avoid adding sugars to your meals, while avoiding sweets and sweetened drinks such as juices and soft drinks.