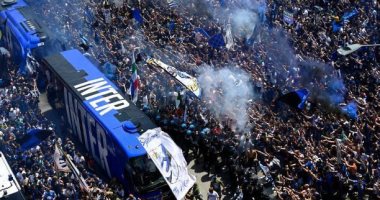 The Italian team, Inter Milan, enjoys great support from its fans at the "Giuseppe Meazza" stadium, when it faces Real Madrid at the ninth evening, Wednesday, in the first round of Group D of the European Champions League.
And according to the Italian newspaper "Toto Sport", the process of returning the fans to the San Siro, to support Inter Milan in the Champions League, begins today, Wednesday, against Real Madrid, after an absence of 574 days.
She added that on February 19, 2020, after the dramatic spread of the Corona epidemic, the Atalanta – Valencia match was determined as the last match played in the "Giuseppe Meazza" in the Champions League competitions.
And she added that the process of returning Inter Milan fans in the Champions League, tonight, will be in limited numbers inside the stands.
And she continued that there will be 37,000 Inter Milan fans in the stands of "Giuseppe Meazza", to support Inzaghi and the players against Real Madrid.
It is worth noting that Inter Milan drew 2-2 in the last round of the Italian League against Sampdoria, which was held at the latter's stadium in Luigi Ferraris.