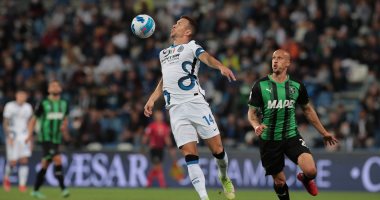 Sassuolo beat Inter Milan with a clean goal, during the events of the first half of the match that is currently gathering them at the "Mappi" stadium, in the seventh round of the Italian league competition "Calcio" in the current season 2021-2022.
intermilan
The only first-half goal came after 22 minutes, with Italian international Domenico Berardi from a penalty kick.
Inter Milan entered the match tonight, and it is third in the Italian league table with 14 points, two points behind its neighbor Milan, the runner-up with 16 points, and 4 points from Napoli, who is unique in achieving the full mark in the first 6 rounds, while Sassuolo comes in twelfth place. With only 7 points.
The formation of Inter Milan was as follows: Goalkeepers: Handanovic / Defense line: Dumfries – Skriniar – De Vri – Bastoni / Midfield: Barilla – Brozovic – Shalhanoglu / Forward line: Perisic – Joaquin Correa – Lautaro Martinez.
Inter Milan, led by Simone Inzaghi, who succeeded Antonio Conte after his departure after crowning Calcio last season, is seeking to regain victories again in the Italian League, especially after falling into the trap of a 2-2 draw with its guest Atalanta, at the "Giuseppe Meazza" stadium, within Sixth round competition.
The Italian team, Inter Milan, also tied with its Ukrainian counterpart Shakhtar Donetsk, in the match that took place between them last Tuesday evening, at the "Donbass Arena", in the second round of the group stage matches of the Champions League.