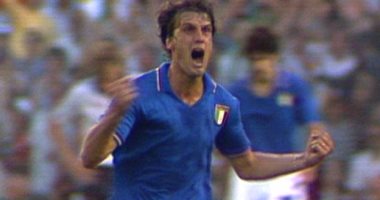 You may forget a match and you cannot remember its events, and you may forget players with their eyes and do not remember their names when one of your friends reminds you of them, but it is very difficult to forget the wonderful goals scored by the stars of the round witch, whose names are immortalized in the football records, and have remained to this day stuck In everyone's mind.
"Goal Morning, a daily report in which we will present to you every morning a collection of the most beautiful football goals scored by the game's top stars.
The 1982 World Cup final brought together the two neighboring teams, Italy and Germany, and the match lasted about an hour without scoring any goal, until the star Paolo Rossi opened the goals of the meeting in favor of the Italians..
The German team searched for the equalizer, but Marco Tardelli, the former Azzurri player and coach of the Egyptian national team, assassinated their dreams, after he scored the second goal for Italy with a great shot, and celebrated in his famous way, which has remained one of the most prominent moments of the World Cup so far..
The Italian team also scored a third goal through Alessandro Altobelli, before the Germans scored a single goal through Paul Breitner, but it did not affect Italy's crowning of the title.