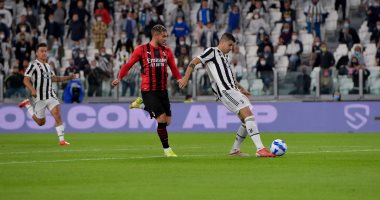 Juventus, led by its technical director Massimiliano, continued its disappointing results in the Italian league, after it failed to achieve any victory during the first 4 rounds of the competition, after its draw on Sunday evening, against its guest, Milan, 1-1, which was held at the "Allianz Stadium" ".
And the "Opta" network specialized in monitoring statistics, stated that Juventus did not succeed in winning during the first rounds of Calcio for the fourth time in its history, after the seasons 1942 – 1943, 1955 – 1956 and 1961 – 1962.
In the opening meeting, Juve tied with Udinese with two goals each, then lost in two meetings against Empoli, with a goal in return, and then fell against Napoli with two goals against a goal.
Juventus vs Milan

Alvaro Morata scored the first goal for Juventus in the fourth minute of the match, then Ante Rebic scored the equalizer for Milan in the 76th minute of the match.
With this result, Milan share the top spot in the Italian league standings with its neighbor Inter Milan with 10 points each, while Juventus falls to the eighteenth place in the standings this season with two points, after failing to achieve any victory in the competition so far.
Milan's series of victories, led by coach Stefano Pioli, which he achieved this season, stopped after a draw with Juventus, after he scored 9 points from his first 3 matches.