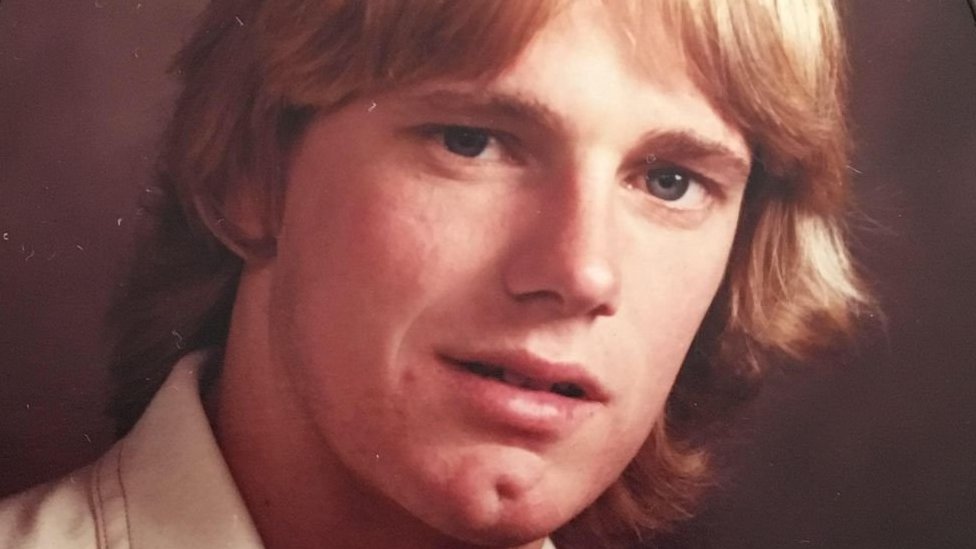 As they walk down a stone stairwell to the sands of the English seaside resort of Newquay, thousands of beach-goers pass – but do not notice – a plaque reading "Karl's Steps".
Even for the observant and curious, the details are difficult to find. As an internet search term, it brings up no relevant results.
There are, however, a few people in the Cornish town who remember a 22-year-old lifeguard who had only been there for six weeks. Who remember a spirited and popular Australian with a sense of wanderlust. Who remember 1986 and the freak accident and the unlucky death. Who remember Karl Edwards.
'We already know he's dead'
On a Sunday morning in June 1986, Kevin Edwards woke up at his home in Geelong, near Melbourne, to the 06:00 BBC World Service news bulletin.
As he listened, he urgently tapped his wife Genevieve on the shoulder, telling her something terrible had happened: an Australian lifeguard had died on the other side of the world, in Newquay, Cornwall.
"We just knew it was Karl," Genevieve recalls. "I was 44 and my life stopped then."
They made some phone calls, in what proved to be a fruitless effort to find out more, before going to church as usual. A few hours later the police knocked on their door. Before the officers could explain why they were there, Kevin told them: "We already know."
The previous night, their 22-year-old son Karl – the oldest of their five children – had been out with some of the friends he'd made while working as a lifeguard in Newquay.
He was on the dance floor of a nightclub, jumping around and lifting people up in the air as he sang along to his favourite song, Spirit in the Sky.
When I die and they lay me to rest
Gonna go to the place that's the best
When I lay me down to die
Goin' up to the spirit in the sky
Earlier in the evening, the young lifeguard had been talking to his friend Brenda McCallum, telling her his bank card had been stolen and that his radio had been taken as he gave a girl first aid on the beach.
She reassured him, "Well at least things can't get any worse for you, Karl". The following afternoon, on what would have been a day off had he not volunteered for an extra shift, Karl was in the small lifeguard hut on Towan Beach when 40 tonnes of sliding cliff fell on top of it.
'I could hear him in there shouting'
On the day Karl Edwards died, 21 June 1986, the rain was torrential.
Fire engines pumped out water from the shops in Central Square, and spontaneous rivers flowed down the hills and across the grass in the cliff-top town.
At Towan Beach, Karl was joking with staff in the café with his friend Ian McCallum, who rented out deckchairs.
While Ian went to retrieve some bins that had been swept off the promenade, Karl retreated to the lifeguard hut. He phoned his friend, Bullet, a fellow Aussie lifeguard who was working at another of Newquay's beaches.
Suddenly the phone went silent.
Nearby, 16-year-old Roberto Cubeddu was messing about in the rain when he heard a loud crashing noise.
"As I went down the steps I could see the cliff had fallen in," he recalls. "I heard what I thought was a dog yelping, but got closer and looked through a gap and I could hear him in there shouting."
Roberto spoke to Karl and moved to a position from which he could start trying to free him. "I was digging, digging, digging and bits of rubble were still falling down," he said.
Ian soon joined him along with two other helpers. They all frantically tore at the rubble with their bare hands. "He was moaning, but then he just expired," Ian said. "I've never experienced anything like that. I was in a hell of a state."
When the fire service arrived, the four would-be rescuers were told to move away immediately as there was a risk they could be injured by more falling debris.
"I have never forgotten it," Roberto said.
"It has been with me all my life."
'He was a classic bronzed Aussie'
Karl spent the first few years of his life in rural southern Victoria, where his parents were teachers.
"He was a different sort of kid," his mum Genevieve remembers. "He was my oldest and he was my kindred spirit. He and I were like peas and carrots. I 'got' him and he 'got' me."
When Karl was nine, the family settled in the Grovedale district of Geelong, a coastal town near Melbourne, in the house Kevin and Genevieve Edwards still live in today.
You might also like:
A mischievous student, he gave his teachers at St Joseph's Catholic College a hard time, although he remained popular with his peers.
"Karl never had any enemies," his sister Fiona said. "Everybody enjoyed his company. He was the kid that everyone wanted to be like."
From the age of 13, he spent as many days as he could at the Jan Juc Surf Lifesaving Club.
Not one for the classroom, at the age of 17 Karl joined the army, where he would serve for three years. He was based mainly in Townsville, Queensland, about 2,500km north of Geelong, although he returned home regularly.
"We didn't find out until he died that he had changed the grades on his report," his mum said. "The army thought he got Bs when he got Ds."
During home leave, and after he left the army, Karl continued to be an active club member at Jan Juc "even taking his lunch in his pocket so he could work Christmas Day", Genevieve remembers.
A good friend at the club, Steve Miller, described Karl as "a classic bronzed Aussie bringing it to the world".
The two friends were among a small group of competitive young men, who would push one another's limits with long, painful sprints to the local lookout point Bird Rock and swims "to the horizon".
"It was this really cool, hardcore little culture that we had going on then," Steve said.
"We were so close. We all thought we were invincible."
He added: "When it's big [surf] at Jan Juc it can be three or four storeys high, so when Karlos said he was going to England to do surf lifesaving we all just cracked up. You just don't think of England as a surf location when you live at Bells Beach."
'The Pope came out and held his hand'
On his way to England, Karl spent time in France and ended up at Mont Blanc, where Steve said he became the first Australian to climb the mountain unassisted.
"That's just what he was like – absolutely fearless," he said.
Rome was also on Karl's itinerary, after his mother had jokingly said she wanted him to meet Pope John Paul II.
She said: "He went [to the Vatican] and there was a new person being beatified, a German person (Karolina Gerhardinger), so somebody said if you cover up your T-shirt, just follow people in. So that's what he did.
"He bought rosary beads for me and both his grandmothers, and he was standing on chairs and saw an opening and ran over, put the beads out and said the Pope came out and held his hand and made the sign of the cross.
"He was absolutely beside himself when he rang to tell me that."
In the French ski resort of Meribel, Karl met a couple from Newquay who convinced him to move there for the summer. In the 1980s, the Cornish town was home to a legion of Australian lifeguards.
Many had nicknames – Phantom, Bird Legs and Bullet were all contemporaries of Karl. They were a close-knit group who worked hard in the day and afterwards made the most of Newquay's nightlife.
Paul Benney, who was a senior lifeguard at the time, said he used to tell the others: "You can get whatever you want in this town, but don't become a victim of Newquay."
Karl was not one of the young lifeguards Paul felt too worried about, though. "He was different because he was a devout Catholic and he would go to church every Sunday."
Karl's mum and dad visited Newquay several times after his death and on one occasion spoke to the priest at the church their son used to attend.
"Father Kelly said Karl came to confession the week before he died, which is unusual for that age," Genevieve said.
"He had warned Karl about these girls that only wear handkerchiefs instead of bathers. He said: 'I warned him – you keep away from those girls with little short handkerchiefs around their waists.'
"They would have been bikinis, I suppose. I laughed when I heard that, and I can imagine Karl going 'yes father, yes father, yes father' – but he would have chased them anyway!"
'He was not supposed to be here that long'
Kevin Edwards did all he could to arrange for his son's body to be returned home as speedily as possible. Before long, Karl was back in Geelong.
"I went over and kissed him," Genevieve remembers. "He was all dressed in white. He just looked like a saint, so gorgeous.
"And then a lifeguard said 'you've just got to go out and get this song, because this was his song, Spirit in the Sky'. And I couldn't believe it when I heard it. It was just so right.
"We were going to play it at the funeral, but we didn't. Now, we probably would but back then it wasn't the proper thing to have that sort of music in the church."
The funeral was attended by a large number of people, and dozens of Karl's friends wrote letters to his family. Genevieve is still in touch with some of them.
"I think perhaps he was not supposed to be here that long," she said. "He had done all he was supposed to do in 22 years and maybe his life wasn't going to be as good as those first 22."
'I can still hear him singing'
Karl's sister Angelique had a plaque made when she visited Newquay some years after his death, but had to leave before she could attach it to the steps leading down to Towan Beach.
"She asked me to do it," his friend Ian McCallum said.
"I didn't have permission from the council, and so I put on a disguise and went down as it was getting dark, but as soon as I started drilling somebody I knew walked past and said 'hi Ian' and my cover was blown."
He could only get three screws into the wall. When Karl's dad Kevin next visited Newquay and went to see the plaque, it was easy for him to slide a laminated letter he had written to his son behind it.
In Geelong's Nazareth Catholic Church, a crucifix in Karl's memory takes pride of place behind the altar. At the Jan Juc Surf Lifesaving Club, the Karl Edwards Memorial award is handed out each year.
"When we heard about Karlos, it ripped us to bits," Steve Miller said. "I didn't go back [to the surf club] for 30 years. One of my mates has never been back."
Steve eventually returned to the club to give a speech marking the 30th anniversary of his friend's death.
"In the main room there's a picture of Karl 'throwing a classic'," he said of the triumphant pose the energetic friends would sometimes strike. "Think of Usain Bolt's 'thunderbolt', and we were doing something similar all those years ago."
The loss of such a great mate is still keenly felt by Steve, who said Karl had somehow known he would die young.
"He always said he wasn't going to have a long life," Steve said.
"I can still hear him singing Spirit in the Sky at the top of his voice."
When I die and they lay me to rest
Gonna go to the place that's the best
When I lay me down to die
Goin' up to the spirit in the sky
All images subject to copyright
Story edited by Ben Jeffrey
Source link