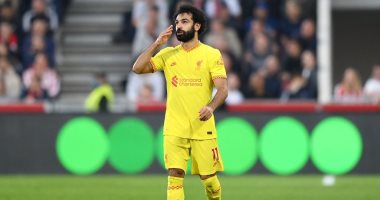 Jurgen Klopp, coach of the English club Liverpool, praised the achievement of Egyptian star Mohamed Salah, reaching the 100th goal in the Reds shirt in the English Premier League competition.
Mohamed Salah scored a goal in the Reds' 3-3 draw with its host Brentford, in the exciting confrontation that brought them together this evening, Saturday, at "Griffin Park", in the sixth round of the English Premier League "Premier League" in the current season 2021-2022.
Klopp said in his statements after the match, "Mohamed Salah played amazing, but I know that he thinks about the opportunities he missed. Of course, what he achieved was an amazing achievement," adding, "We must give Salah another shirt with the number 100. His numbers are crazy."
Klopp added, "Mohamed Salah is an exceptional player. Two weeks ago, he scored his 100th goal in the league, and now the same number, but with Liverpool."
He continued, "Of course Salah should have scored the decisive goal today, but that's okay."
Klopp spoke about Liverpool's level in today's confrontation, saying: "I was not happy with how we started the match. We were not organized the moment we received the first goal. The reaction was good, we scored beautiful goals and controlled the match better in the second half."
He added, "It was difficult to defend today, but in attack we were good. The result is not bad at all."
"We could have scored more goals, but that's okay," he added.
Mohamed Salah scored wholesale records after tonight's goal, as the "Opta" network, which specializes in statistics and records, stated that Mohamed Salah became the fastest to reach 100 goals in the English Premier League with Liverpool in history, during 151 matches, breaking Roger Hunt's number (152). match).
Mohamed Salah also became the fourth fastest player in the history of the Premier League to score 100 goals with one team behind the trio: Alan Shearer (124) matches, Harry Kane (138) and Sergio Aguero (147), and the Egyptian star surpassed Terry Henry, who reached the centenary in the league. England in 160 matches.
Mohamed Salah raised his score to 131 goals with Liverpool in various tournaments, to be unique in the tenth place in the list of the best scorers of the Reds throughout the ages.