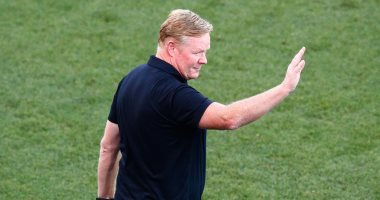 Dutch coach Ronald Koeman, Barcelona coach, made exciting statements, coinciding with the circulation of news and demands for his dismissal and his imminent departure from coaching the Catalan team..
This comes in light of the modest level that Barca showed in the last period, the last of which was the loss from Bayern Munich by three in the Champions League.
Koeman said in the press conference for Granada match tomorrow, Monday in La Liga, "Barcelona had previously lost from Bayern Munich last season (8-2), and Lionel Messi, Luis Suarez and Griezmann were in the team at that time, and in the last match we lost from Bayern with three goals without a response, and it was In our squad is Mingisa, who is 22 years old, and my country is 17.".
Koeman added during the press conference, "If we left the spaces in front of Bayern Munich, the result would have been against us more, I do not know what the fans think about me, there are those who understand and there are not.".
And the Barcelona coach continued, "If we played openly against Bayern, we would have lost with a greater result. We lost 8-2 with Messi, Griezmann and Suarez last season, and I am not afraid to play with a young group, but it is difficult to play with 6 young players in the starting lineup.".
Ronald Koeman concluded, "Barcelona is able to win any match, but there must be an active role in the attack as well as the defense, and I am not afraid to play with a group of young players, because Barcelona cannot control it, but we will always find opponents of the approach and style."
Koeman continued, "I am fighting to win and prove my existence, the last word for my future is not for me. Barcelona can win every match, but you have to prepare well for every match. You have to have an attacking game with movements and be effective in our game. You also have to defend." Well"..
Barcelona will face Granada at the Camp Nou at nine in the evening, in the fifth round of the Spanish League.