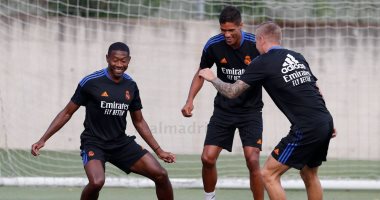 Real Madrid's German player Toni Kroos began training on Monday after recovering from injury in the sports city of Baldebebas, as the royal team prepares to face Mallorca on Wednesday.
Kroos did some training inside the club's facilities and on the grass, where he completed part of the training set by the coaching staff led by Carlo Ancelotti.
The players who participated mainly against Valencia performed some warm-up exercises, while the rest played a match.
Dani Carvajal, who was injured in the first half, returned to the clinic and will be out in principle for two weeks pending relevant tests.
Fede Valverde, who participated mainly in all Real Madrid's matches this season, trained alone, as well as the injured Danny Seboias, Marcelo, Ferland Mendy and Gareth Bale.
Real's victory over Valencia gave La Liga the lead, two points ahead of Atletico Madrid and three behind Valencia.
On the other hand, the Spanish newspapers celebrated Real Madrid's victory over Valencia and snatched 3 valuable points from the bat's fangs at the Mestalla stadium.
The newspaper "Marca" published a picture of Benzema and Vinicius Junior and commented, "The two leaders, Real Madrid Ancelotti, dominate the league alone, Vinicius and Benzema return in the last half, Carvajal's injury."
While the newspaper "AS" commented, "Real Madrid is immortal, Ancelotti's team does it again: Rimontada in Mestalla with two goals, from Vinicius and Benzema, in the last four minutes, the fall of Valencia was due to fatigue."