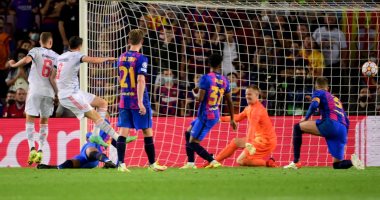 Barcelona president Joan Laporta held an emergency meeting at the Camp Nou after Barcelona's 3-0 defeat to Bayern Munich in the first round of Group E of the Champions League.
And, according to the Catalan newspaper, "Sport", that the Barcelona president held an urgent meeting with his assistants, Rafa Yusti, deputy, and Matteo Alemani, sports director, after the Blaugrana match against Bayern Munich, to discuss the reasons for the humiliating defeat against Bavarian by three at the beginning of the Champions League career.
She added that Barcelona officials are in a state of anger, due to the team's inability to take a single shot against Bayern Munich, in an incident that has not occurred in the history of the Catalan team.
She added that Barcelona President Laporta inquired about the reasons that prompted Dutch coach Ronald Koeman to play in a 3-5-2 method, while asking him in the Barca administration to rely on the 4-3-3 method.
Barcelona is bottom of the group standings in the Champions League, without a balance of points, while Bayern Munich leads the standings with 3 points, Dynamo Kiev and Benfica are in second and third place with one point each.