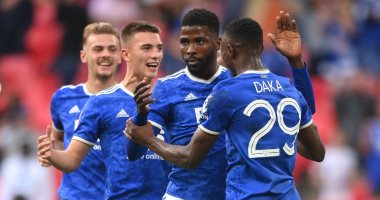 Leicester City will face a difficult test when it hosts its Italian counterpart, Napoli, at its King Power stadium at nine in the evening, Thursday, in the third group competitions for the first round of the group stage matches in the European League..
The English club Leicester City qualified for the European League after finishing last season in fifth place with 66 points in the English Premier League standings.
Leicester came from a 1-0 loss against Manchester City in its last match in the Premier League, and is preparing for an exciting match against its Italian guest..
The Italian club Napoli managed to qualify for the European League after finishing last season in fifth place with 77 points in the Italian league standings.
Napoli came from a 2-1 victory at the expense of Juventus in its last match in the top of the league competitions, and is preparing to enter a fiery and exciting match against its host, Leicester City..
Leicester City coach Brendan Rodgers has a battalion of stars in the Fox formations, led by Jimmy Vardy, Harvey Barnes and James Madison..
While Napoli enters the southern club in Italy, Leicester City meet in high spirits after defeating Juventus in the third round of the Calcio competition, and the formation of Napoli is led by a number of prominent players, led by Lorenzo Insigne, Calido Coulibaly and Matteo Politano..
The Leicester City match against Napoli will have the element of strength and enthusiasm, as both teams have distinctive elements.
It is expected that Leicester City will enter the confrontation with a formation consisting of:
Goalkeeper: Schmeichel
Defenders: Castania, Westergaard, Suyoncho, Bertrand
Midfield: Brighton, Ndidi, Telemans
Forwards: Barnes, Madison, Vardy
While the European club Napoli is expected to start with a formation consisting of:
Goalkeeper: Ospina
Defenders: Di Lorenzo – Manolas – Koulibaly – Mario Rui
Midfield: Fabian Ruiz – Anguise – Elf Elmas
Forwards: Politano – Osimhen – Insigne