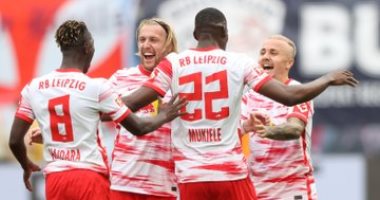 Leipzig swept its guest Hertha Berlin with a clean six in the meeting that brought the two teams together today, Saturday, at the Red Bull Arena, in the sixth round of the German League for the current season 2021-2022.
Leipzig finished the first half of the match with a 3-0 lead, through Christopher Nkunku, Youssef Poulsen and Nordy Mukele, in the 15th and 23rd minutes, and the third of stoppage time.
In the second half, the hosts doubled the score by adding 3 more goals through Emil Forsberg from a penalty kick, Christopher Nkunku and Amadou Hydara in the 60th, 70th and 77th minutes of the match.
Leipzig raised its score to the seventh point in tenth place, in the German league table, which is led by Bayern Munich with 16 points, while Hertha Berlin's balance stopped at 6 points in the eleventh place.
The results of the remaining matches that were held at the same time were as follows:

Bayer Leverkusen 1 – 0 Mainz
Union Berlin 1 – 0 Armenia Bielefeld
Hoffenheim 3 – 1 Wolfsburg
Frankfurt 1 – 1 Köln
The matches of the sixth round of the Bundesliga will be completed with a strong meeting between Borussia Dortmund and its host Borussia Moenchengladbach at 6:30 pm today.