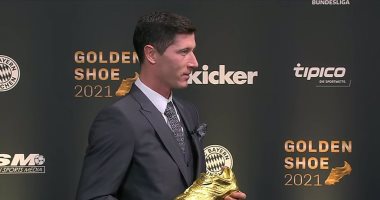 Polish striker Robert Lewandowski of Bayern Munich spoke about his aspirations with his team during the current season, his position on leaving Real Madrid during the previous transfer period, and the extent of the seriousness of those offers during the celebration held today, Tuesday, at the Bayern Museum, at the Allianz Arena, to receive the top scorer award. The European Grand Prix (Golden Boot), for the 2020-2021 season.
"It's not over yet, we are still hungry for more titles," Lewandowski said during his speech at the ceremony.
Lewandowski added about the Ballon d'Or: "The season has just started, we still have a lot of games and I can score, I want to win with my team, I score goals for the team."
Robert Lewandowski explained: "I am a Bayern player and I want to continue winning matches and titles here. The new generation of players will meet expectations, but I have my own experience and skills. I haven't said the last word yet."
And about the comparison with Messi and Ronaldo? Lewandowski confirmed: "I always compete with myself, what Cristiano and Leo do is something that may not be around for long.. However I look at myself and what I can do and what I can give, it takes a lot of work and respect.".
Lewandowski stressed: "My parents have always supported me, it was not about becoming a professional footballer, the important thing was that I was a lucky boy who loved the game, my father and mother did a lot for me.".
And about the rumors that linked him to Real Madrid in the past? "Yes, that's right, I met Florentino Perez after the Madrid games and that's all I can say about it," said Lewandowski.
On his future, Lewandowski confirmed: "I have a contract with Bayern Munich and I want to continue to be successful with the club. We now feel that we can achieve something similar to what we did two seasons ago."
Robert Lewandowski continued: "I am very proud and happy. I didn't even think I would score so many goals, especially after my injury. I would like to thank my team-mates, the coach and the entire coaching staff we worked together for. I would also like to thank my wife Anna, who has been a great support and motivation for me. for me, for better and for worse.".
The German newspaper "Kicker" presented the Polish star Robert Lewandowski, the Bayern Munich striker, with the Golden Boot award, after being crowned the top scorer of the major European leagues "Big 5" last season, after ending the German League season with 41 goals.
The ceremony for Lewandowski to receive the Golden Boot award witnessed the presentation of video messages from Christian Seifert, president of the German Football Association, Jürgen Klopp, coach of Liverpool, who previously supervised him in Borussia Dortmund, and Hans Flick, the current coach of the German national team and the former Bavarian team.