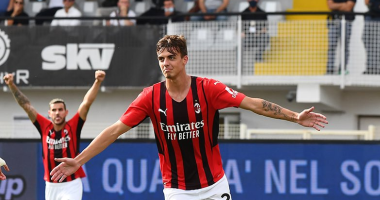 The Milan team achieved a difficult victory over its host Spezia, with two goals against a goal, in the match that brought them together this afternoon, Saturday, in the sixth round of the Italian League competition.
Milan dominated the situation in front of Spezia throughout the events of the meeting, and had the advantage in attack on more than one occasion.
Daniel Maldini, son of the former Milan legend, and the club's current sporting director, scored the first goal for the Rossoneri in the 48th minute of the match.
Daniel Maldini participated with Milan for the first time as a starter against Spezia, in the Italian league competitions season 2021-2022.
Daniel Maldini scored in his first match as a starter with AC Milan, under the watchful eye of his father, Paolo Maldini, the sporting director of the Rossoneri, who paid a warm greeting to his son from the stands.
Milan tried to snatch the second goal to secure the victory against Spezia, but to no avail in light of Spezia's defensive cohesion in front of the penalty area.
In the 80th minute, Spezia scored the equalizer against AC Milan, through Daniele Verdi.
And in the 86th minute, Spaniard Brahim Diaz managed to snatch the deadly winning goal for Milan, against Spezia.
With this result, Milan raises its score to 16 points and takes the lead in the Italian league standings, one point ahead of runner-up Napoli with 15 points, while Spezia's balance freezes at point 4 in 17th place.