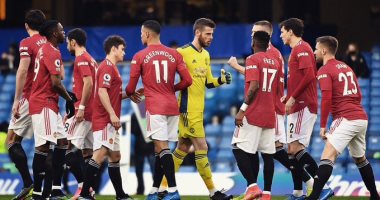 Manchester United will host Newcastle United at 4:00 pm today, Saturday, at Old Trafford, the stronghold of United, as part of the fourth round of the English Premier League for the 2021-2022 season.
The match is very important for Manchester United fans and fans, as it is expected to witness the first appearance of Portuguese star Cristiano Ronaldo, who joined the ranks of the Red Devils this summer, coming from Italian Juventus.
It is expected that Cristiano Ronaldo will participate in today's match, even as a substitute at least, especially since he began training with the team since last Wednesday only.
Manchester United enters the match today, occupying third place in the English Premier League table with 7 points from two victories and a draw, two points behind leaders Tottenham Hotspur, and a goal difference from West Ham United, the runner-up.
As for Newcastle United, it occupies 17th place in the table with one point, and has not achieved any victory so far.
Manchester United, led by coach Ole Gunnar Solskjaer, is seeking to win today's match, and move forward in the competition for the English Premier League title this season, and at the same time fears that its players will be stressed, especially as it will face the Swiss Young Boys next Tuesday at the start of the group stage for the competition. Champions League.
Manchester United depends on midfielders Paul Pogba and Bruno Fernandes, in addition to the brilliant young Mason Greenwood in the offensive line.
Today, also in the fourth round of the English Premier League, 7 other matches will be held, as the Crystal Palace match and its guest Tottenham Hotspur will be held at 1:30 pm, and at 4 pm there will be confrontations: Arsenal vs Norwich City, Leicester City vs Manchester City, Southampton vs West Ham United , Watford hosts Wolverhampton, Brentford against Brighton, and at half past six in the evening, Chelsea hosts Aston Villa.