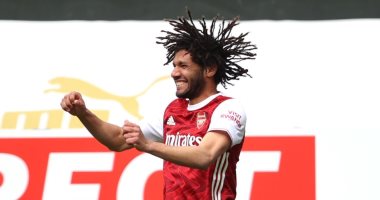 Egyptian international Mohamed Elneny, Arsenal midfielder, spoke about the details of Egypt's famous match against Ghana in 2013, in which the national team suffered a 6-1 defeat in the 2014 World Cup qualifying match, in an interview with the London club's official website.
Mohamed Elneny confirmed in an interview with Arsenal website: "We won all the matches in the qualifiers, but we needed to win the play-off match. We felt like they were doing magic or something."
Mohamed Elneny added: "The stadium was crazy, they might say that the stadium had 40,000, but maybe there were 100,000, in the streets outside, the hotel, the way to the match, everything was difficult.".
Mohamed Elneny explained: "Fans are yelling at you, it's weird but you feel like something's happening to you, you're not feeling well, it's affecting you, you don't feel safe, and that really makes a difference.".
Mohamed Elneny continued, "We lost the match 6-1, but playing that match without fans, with the same teams, in a different country, the result will not be 6-1."
The Egyptian national team star stressed: "We have won all our team matches at home and abroad, but in Africa this is crazy, it is not that it is dangerous enough that you feel that they can kill you, but the way they act, the way they shout, it is difficult But the fans have a good heart. They love football, really, really love it, and they want their country to win of course, I love African fans so much because they have a big heart, but sometimes football can be on the edge of a cliff..
Elneny said: "Sometimes in the game it can be difficult. There are pitch fights sometimes, fireworks are thrown and that can be a distraction when you play as it is in Africa. Not many families attend those matches because it's not always safe."