The Brazilian star, Nema Reda Silva, mocked the criticism leveled against him due to the large increase in his weight, which appeared during the samba match against his host Chile, which was held at dawn today, Friday, and ended with the victory of Seleção, with a goal without a response, in the South American qualifiers for the World Cup. 2022.
Some fans launched a sarcastic attack on Neymar, because of the form in which he appeared during the match, and his noticeable lack of fitness after returning from vacation, and he was attacked after his match against Chile because of obesity, which prompted the Brazilian striker to respond, saying through the story of his account on Instagram: "I admit that The match was not the best, but the victory was achieved in the end."
Neymar explained, about his overweight appearance, saying: "The shirt was a size G It's bigger than what I usually wear, next game I'll order a sizeM"We decorated the illustration with many laughing emojis.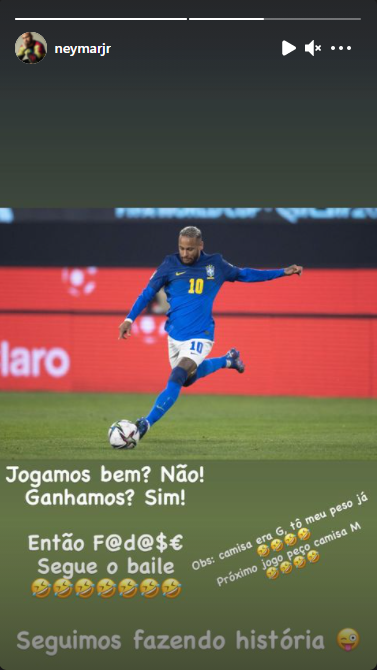 Neymar
Brazil won its seventh consecutive victory in the South American qualifiers for the 2022 World Cup in Qatar, at the expense of its host Chile, with a clean goal, in the meeting that brought them together in the early hours of Friday morning, at the Monmental David Orlano Stadium, in the capital Santiago, within The ninth round of qualifying matches.
With this result, Brazil raised its score to 21 points at the top of the South American qualifiers for the 2022 World Cup, 6 points ahead of Argentina, runners-up with 15 points, who beat Venezuela 3-1.