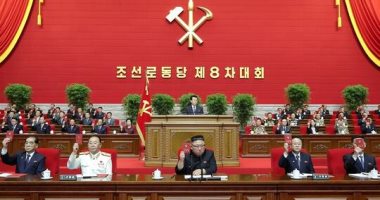 North Korean leader Kim Jong Un announced the failure of his five-year economic plan in almost all sectors. In his opening speech to the ruling "Workers Party" conference, Kim affirmed that his country had achieved a "miraculous victory" by strengthening its strength and global position since the last meeting, noting that the economic strategy The five-year period approved in 2016 has failed to achieve, calling for strengthening North Korea's self-reliance to face internal and external challenges that impede its progress.
He added, "The strategy was to be implemented last year, but it largely failed to achieve the goals in almost all sectors."
Regarding the Coronavirus, Kim praised the party workers for "ensuring stable conditions against the virus from beginning to end," noting that they "resolutely overcome the difficulties in the face of an unprecedented and prolonged global health crisis."
The ruling party's general conference was launched in an event that is the first of its kind in five years, and that new economic and political plans may be issued by it. The Korean Central News Agency said that the Eighth General Conference of the Korean Workers' Party opened in Pyongyang, according to "Russia Today."
She reported that the meeting of the Political Bureau, which was held yesterday, Tuesday, agreed to hold the conference early in January, without giving a specific date, adding that the meeting included "an in-depth study and discussion of a series of important issues" that will be reviewed during the conference, and North Korea's economy has declined significantly. Because of the international sanctions imposed in response to the nuclear program and missile tests, and what increased pressure on the Covid-19 epidemic and the floods that occurred in the country during the summer.