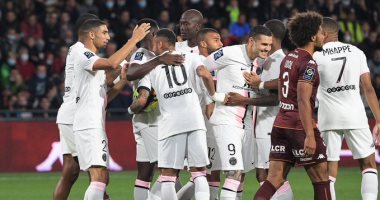 French club Paris Saint-Germain will host its counterpart Montpellier at nine in the evening (Saturday) at the Parc des Princes, as part of the eighth week of the French League.
Paris Saint-Germain seeks to continue victories to maintain the top spot in the French League, which sits on its throne with 21 points.
And it was confirmed the absence of the Argentine, Lionel Messi, the star of Paris Saint-Germain, from participating in the match against Montpellier, and according to the Paris club announced that the player is still in the recovery stage and will undergo a new medical examination on Sunday.
Paris had announced earlier that Messi had injured his left knee during the Olympique Lyonnais match in the league, which resulted in his absence against Metz in the last round.
For his part, Mauricio Pochettino, coach of the Paris Saint-Germain team, spoke at the match press conference yesterday about Lionel Messi's position on participating in the upcoming matches.
Pochettino said: "Messi is back for some light training and we are following his condition closely. We also hope that things will go well, and we hope that things are fine."
On Messi's participation against Manchester City, on Tuesday, in the Champions League, the Paris Saint-Germain coach explained that the final position will be determined in the coming days, adding that he hopes to recover well and catch up with the match.
He described Montpellier as a good team, saying: "They have already scored many goals, and we want to find many opportunities to overcome this match with the best result."
On the other hand, Montpellier is looking for a victory or at least a one-point exit from the match in order to adjust its ranking in the competition, as it occupies tenth place with 9 points.