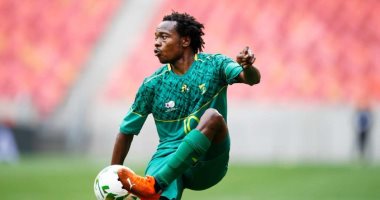 The goalless draw was decided by the events of the match between Zimbabwe and South Africa, which brought the two teams together this afternoon (Friday) at the National Stadium in Harare, Zimbabwe, where the new Al-Ahly player Percy Tau was in the starting lineup and participated for 77 minutes, before being substituted.
It is expected that Percy Tau will join the Red Genie after the current international hiatus, after Al-Ahly contracted him from Brighton, England, for a payment of 1.8 million euros, other than what the player will receive at a value of 1.1 million dollars.
The composition of the South African national team was as follows:
Williams, Morena, De Ric, Zulu, Moby, Mfala, Mokwena, Percy Tao, Links, Singh, McGuba.
With this result, each team from both teams gets one point, while waiting for the result of the second match in the group between Ghana and Ethiopia, which will be held at nine in the evening today.
South Africa is in Group G, along with Zimbabwe, Ghana and Ethiopia, and the winners of the group qualify for the final qualifiers for the 2022 World Cup.
Percy Tau has a huge record of achievements and special numbers with the clubs he played for during his trip, whether in South Africa or professionally, in addition to his constant brilliance with his country.