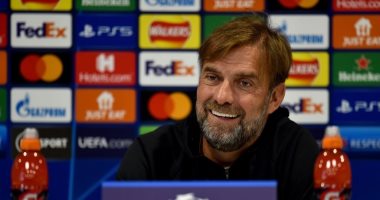 Liverpool coach Jurgen Klopp spoke before the match against Porto, scheduled for tomorrow, Tuesday, in the second round of the group stage of the European Champions League season 2021-2022.
The Liverpool coach began his speech at the press conference, commenting on the defensive errors, "I don't consider it a concern but we have to react, it is difficult to win a game when you do not defend at the highest level and that is what we did not do, honestly it was not only the defensive line but our whole way of defending was a problem. ".
On his opponent, Porto, Klopp said, "It's a different team, but we have to improve in defense. We talked about defensive problems and that we can't play like that again and we found a solution and we have to show it tomorrow."
The Liverpool coach revealed his follow-up to the match between Atletico Madrid and Porto, which ended in a goalless draw, saying, "I followed the match between Atletico Madrid and Porto in the Champions, and if anyone deserves to win, it is Porto."
He continued, "Porto has changed players over the years, but they have the same coach. We have no advantage that we have won two of the last three matches against them."
The German coach added, "We are thinking about this match and they have different opportunities to play and prepare."
On the list of Liverpool traveling to Portugal to face Porto, Klopp commented, "We have a large list that will travel, 23 players will travel, except for the injured players for a long time.
The Liverpool coach stressed, during his statements, "Eliot and Thiago are among the long-term injuries."
Jurgen Klopp praised Jota, saying, "He is an exceptional player, I am very happy that we signed him, he has a strong personality, he is very mature for his age and it is fun to work with him, he has developed a lot."
He continued, "Jota is there to suit Liverpool and our style of speed, technique and ability to work with both feet."
He added, "It's a very difficult group, we can't count on the points we just have so we shouldn't waste any point. The Atletico-Porto match was tough and Porto deserved to win then and this says a lot about the opponent we face tomorrow."
He continued, "The last time we came here, we didn't think about beating them 5-0 because that didn't make sense. We have enough experience to know that you can't win a game before you play it first."
Regarding Jones, Klopp said, "The last game was a good example of Jones, he had to defend, attack and score. He can shoot with his left foot and that's what makes him special, in midfield it's rare for everyone to be ready and I always have to make decisions."
Klopp spoke about the Liverpool captains, saying, "We have three captains in the team, which are Henderson, Milner and Vergil. Then the team voted for three replacement captains for them: Trent, Robertson, and Allison.
The German coach concluded his statements by saying, "The team leaders in order are Henderson, Milner, Virgil, Trent, Robertson and Alison, and after injuries last season and the absence of most of the players, I decided to increase the leaders in the team."