Al Rayyan Club of Qatar invited its fans to attend the presentation ceremony of the newcomer, the Colombian star James Rodriguez, in his first appearance today, in the colors of the Qatari team's shirt.
Al Rayyan Club published, through its account on the micro-blogging site, the text of the invitation, in which it called on its fans to come to its stadium, Ahmed Bin Ali Stadium, to welcome the new legend at 4:30 local time.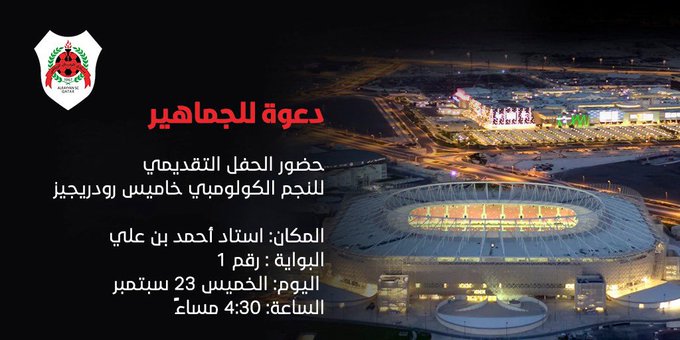 Al Rayyan club announced the signing of the Colombian star James Rodriguez hours ago and officially during the summer transfers, in a welcome statement to the Everton player via the official account on the site "Twitter".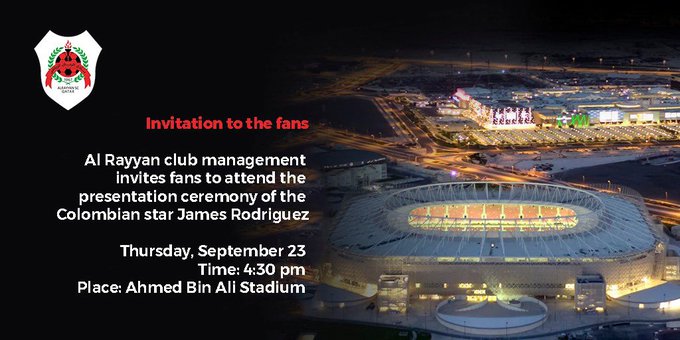 The Colombian player arrived in Doha hours ago and underwent a medical examination by the club's management before the official announcement of the deal.
Rodriguez, 30, has not played for Everton this season, due to injury, since last August.
And British media have confirmed that Colombian star Khamis Rodriguez is close to joining the Qatari club Al Rayyan from Everton..
Rodriguez joined Everton last summer in one of the most surprising transfers of the summer window under Carlo Ancelotti..