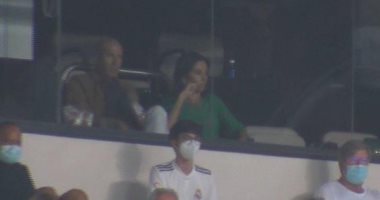 French star Zinedine Zidane, the former coach of Real Madrid, was in the stands of the "Santiago Bernabeu", to watch the Celta Vigo match, which ended a while ago with a landslide victory for the royal with a score of 5-2, in the fourth round of the Spanish League "La Liga". For the current season 2021-2022.
Zidane, accompanied by his wife, attended Real Madrid's return to the "Santiago Bernabeu" stadium, after an absence of 560 days, due to the renovation work that had taken place since March 2020.
Zizou had left the Real Madrid leadership at the end of last season, and Italian Carlo Ancelotti returned to lead the team again during the current season.
Real vs Celta Vigo
Real Madrid was 2-1 behind at the end of the first half of the match, and Celta Vigo was the first to score through its player Santi Mina after 4 minutes of the start, taking advantage of a defensive error, and hit the ball to the right of the royal guard Courtois.
French star Karim Benzema scored the equalizer for the royal team in the 24th minute, with a powerful shot that Celta Vigo goalkeeper failed to address.
The visiting team scored the second goal in the 31st minute through Franco Cervi, from a new defensive error by the Meringue players.
With the beginning of the second half and in the 46th minute, French star Karim Benzema managed to score the equalizer for the royal team, and his second personal goal.
The Brazilian Vinicius Junior scored Real Madrid's third goal, in the 54th minute, after receiving a wonderful pass from Karim Benzema, who was unique in its impact on the goal and placed it to the left of the goalkeeper.
And the French newcomer, Eduardo Camavinga, added the fourth goal of Al-Maringi in the 72nd minute, after he looked at a rebound from the goalkeeper.
The French star Karim Benzema concluded by scoring the fifth goal and the third personal "hat-trick", from a penalty kick in the 87th minute of the match.