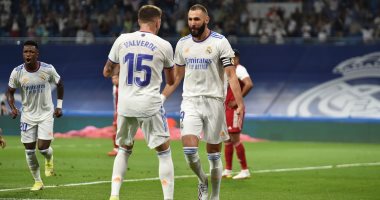 The French star Karim Benzema, the Real Madrid striker, scored 3 "hat-trick" goals against Celta Vigo, during the meeting that ended with the royal team's 5-2 victory, and brought them together on Sunday evening, at the "Santiago Bernabeu" stadium, which the royal team returns. To play for him after an absence of 560 days, due to comprehensive renovations, in the fourth round of the La Liga competition.
Benzema reached his sixth hat-trick with Real Madrid, since Luo in the summer of 2009 from Lyon, France, in a deal worth 35 million euros.
The first hat-trick scored by the French striker in the Meringue shirt was against the French team Auxerre in the Champions League in 2010, and the second came against the Levante team in the King's Cup in the same year, and he also scored a hat-trick against Malmo Sweden in the Champions League in 2015, and the last 3 hat-tricks In La Liga with Rayo Vallecano 2015, Athletic Bilbao 2019 and finally Celta Vigo 2021.
Real vs Celta Vigo

Real Madrid was 2-1 behind at the end of the first half of the match, and Celta Vigo was the first to score through player Santi Mina after 4 minutes of the start, taking advantage of a defensive error, and hit the ball to the right of the royal guard Courtois.
French star Karim Benzema scored the equalizer for the royal team in the 24th minute, with a powerful shot that Celta Vigo goalkeeper failed to address.
The visiting team scored the second goal in the 31st minute through Franco Cervi, from a new defensive error by the Meringue players.
With the beginning of the second half and in the 46th minute, French star Karim Benzema managed to score the equalizer for the royal team, and his second personal goal.
The Brazilian Vinicius Junior scored Real Madrid's third goal, in the 54th minute, after receiving a wonderful pass from Karim Benzema, who was unique in its impact on the goal and placed it to the left of the goalkeeper.
French newcomer Eduardo Camavinga added the fourth goal of Al-Maringi in the 72nd minute, after following a rebound from the goalkeeper.
The French star Karim Benzema concluded by scoring the fifth goal and the third personal "hat-trick", from a penalty kick in the 87th minute of the match.
Spanish league standings
Real Madrid returned to the top of the Spanish league table with 10 points, with a goal difference from Valencia and Atletico Madrid, who have the same balance of points.