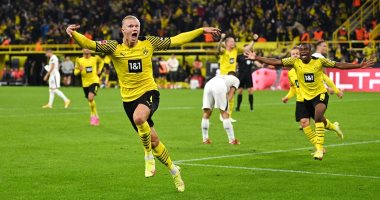 Real Madrid is trying to sign Erling Haaland, Haaland, after the failure to sign Kylian Mbappe, to disappoint his fans..
The president of Real Madrid will work to get the Norwegian striker as soon as possible with the intent of outperforming his rivals.
And the newspaper "Sport" confirmed that Florentino Perez, the president of Real Madrid, will try to make a coup in the market by signing Erling Haaland in January..
The Spanish newspaper indicated that the apparent failure with Mbappe led to the coach's desire to make noise and delight his fans, who were disappointed after their enthusiasm for the arrival of the Paris Saint-Germain player, and Florentino will work to acquire the Norwegian striker as soon as possible with the aim of outperforming his rivals..
Haaland is another difficult target, even more than Mbappe, a signing that is still undetermined and depends on the player's resistance to renewing to Paris Saint-Germain, especially since his contract expires in June 2022.
However, the Norwegian has yet to choose a destination after his father and agent passed through various European clubs, where he could play in any of those who would bid for his signature..
And she continued that to sign with Halland, three conditions must be met, the first, that the player wants to play for Real Madrid, and the second, that they reached an agreement with their club, Borussia, and set a minimum amount of 90 million in January, as its price will drop in June to 75, Although the offers that will reach the German team promise to bring in up to 150 million.
And she continued that the third and final condition is to reach an agreement with his agent Mino Raiola, with whom the leading club maintains a cold relationship due to the exaggerated numbers he always demands for mediation..