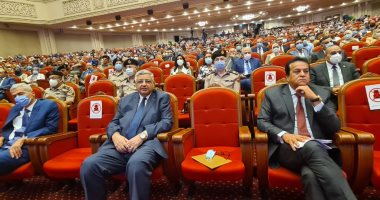 The third session of the Egypt International Health Conference and Exhibition, EgyHealth, kicked off today in Cairo, under the patronage of Prime Minister Mostafa Madbouly.
The conference witnessed the presence of Dr. Khaled Abdel Ghaffar, Minister of Higher Education and Scientific Research, Dr. Awad Taj El-Din, Advisor to the President of the Republic for Health Affairs, Dr. Hazem Khamis, President of the International Anti-Doping Organization (NADO), and a number of doctors, at the Al-Manara Convention Center, with the participation of a number of deans of medical colleges in various Egyptian universities.
For his part, Dr. Mohamed Awad Taj El-Din, Adviser to the President of the Republic for Health Affairs, said: I have 53 experience behind me, and I tell you in all honesty that what Egypt is witnessing now is a boom in various fields, something that has not happened before, and everything that is currently happening in the development is reflected. On the health sector in Egypt, where we were able to provide all the respirators, medicines and medical supplies that suffice them.
He said, "We have a strategic reserve for all we need in terms of medicines, tools and respirators to treat symptoms and complications resulting from the Corona virus."
He added that President Abdel-Fattah El-Sisi issued his orders to provide all vaccines for the Corona virus, and that Egypt was able to manage the Corona pandemic strongly, explaining that Egyptian universities had a major role in receiving, diagnosing and treating patients, and Ain Shams University played a major role in treating Corona patients by establishing the field hospital. And it was able to provide outstanding medical service to millions of Egyptians.
He explained that the medical staff had a role in controlling the Corona virus, and a large number of them were infected and died, saying that under the directives of President El-Sisi, we were able to produce all drugs related to the Corona virus, even antivirals, to treat symptoms and complications resulting from the virus, and Egyptian companies were able to provide all vital drugs, He stressed that under the directives of the President, the City of Medicine was opened to produce the medicines that Egypt needs, including oncology drugs, all drugs in the global market, and respirators, and that the President provided everything we needed and gave a lot to serve the health system in Egypt, and to serve the Egyptian patient.
It is noteworthy that the conference will be held from 7 to 9 September 2021 to keep pace with the medical development witnessed by Egypt, at Al-Manara Conference Center in the Fifth Settlement.
The international exhibition and conference is the largest in Africa in terms of the number of participants and visitors.
EgyHealth exhibition provides all healthcare supplies, and presents lectures and academic workshops with the participation of 100 doctors, in 9 workshops, in various fields such as ENT surgery, chest diseases, radiology and ultrasound.