Portugal star Cristiano Ronaldo admitted that he could not have imagined breaking Ali Daei's amazing record for international goals..
But the Portuguese star managed to achieve this during Portugal's 2-1 victory over the Republic of Ireland, and Ronaldo was equal in the number of goals from the Iranian legend over Daei with 109 goals per player, but Ronaldo managed to turn the situation around in the last minutes, scoring two goals from headers to achieve The record breaks the hearts of the Irish.
Ronaldo celebrated his achievement in a lengthy Instagram post after the match, writing: "I can't even begin to express myself with words! I'm so excited! Let's go, Portugal! Let's go!!".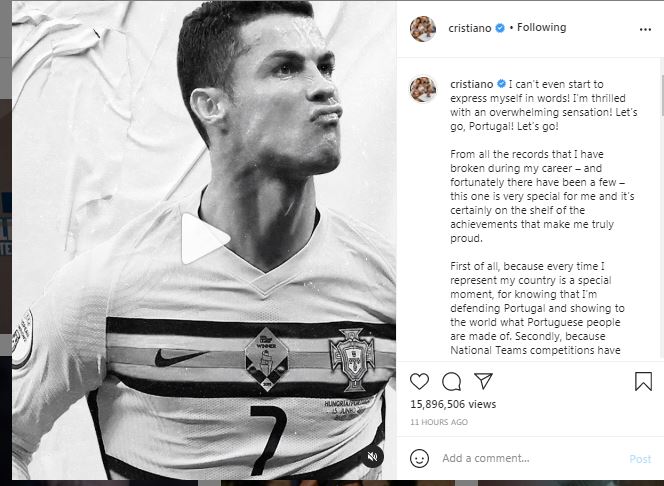 "Out of all the records I've broken in my career, luckily there have been a few, this record is very special to me and it's definitely on my bookshelf that makes me really proud," said Cristiano.."
Ronaldo added: "First of all, because every time I represent my country is a special moment, because I know that I defend Portugal and show the world what the Portuguese people are made of."
"Secondly, because national team competitions have always had a strong influence on me when I was growing up, I watch legends with me play for their flags every other summer in Euros and the World Cup."
And the Portugal striker added: "But last and foremost, because scoring 111 goals for Portugal means 111 moments like the one we lived today in the Algarve, moments of global union and happiness for millions and millions of Portuguese citizens around the world. For them, every sacrifice is worth."
"Another reason for me to appreciate this achievement as much as I do now, is that Ali Daei has set the standards at such a high level that at some point I even started thinking I might never surpass him," Cristiano continued.
"Congratulations to him for holding this record for so long and thank you for always showing me great respect every time I score and as I get closer and closer to his outstanding record," he added.
He continued: "Thank you Portugal. Thank you to all my teammates and fans for making this trip unforgettable."
Ronaldo completed his message: "Let's continue to meet on the field in the coming years! I haven't closed the count yet."
After scoring the winning goal after a special cross from Joao Mario, Ronaldo celebrated hysterically by taking off his shirt..
And after the Red Devils ended the deal to return from Juventus, it is expected that Ronaldo will play his first match with United against Newcastle next Saturday..