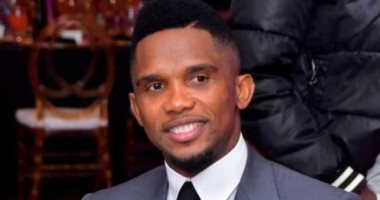 Cameroonian and African football legend Samuel Eto'o announced his candidacy in the upcoming Cameroon Football Association elections, through a television interview.
And wrote a site camfoot The Cameroonian: "Samuel Eto'o has put an end to the suspense, the former captain of the Lions will run for the presidency of the Cameroon Football Federation."
He added: "The historic top scorer of the African Nations Cup was announced on Thursday in an interview with the state TV station RTB: "I will be a candidate for the presidency of the Cameroon Football Federation, when I participate in something, I will go to the end."
Samuel Eto'o had recently praised the South African Pitso Mosimane, coach of Al-Ahly Club, stressing that he deserves to train in the European continent, after his recent achievements with the Red Genie.
Eto'o recently attended the final of the African Champions League in Casablanca, Morocco, and Pitso Mosimane became the most successful African coach ever in the tournament, after achieving his third title, when he led Al-Ahly to crown the tenth title at the expense of Kaizer Chiefs, and the second in a row, as well as crowning the title with Mamelodi. Sundowns in 2016 at the expense of Zamalek in the final.
Eto'o spoke about Mosimane, "First of all, congratulations to Mosimane because he has a great record and showed his great technical abilities again in the final. It is unbelievable, but we find ourselves facing a big problem, as Africans cannot train in the European continent."
Ito added, "European coaches come easily to train in Africa, I think it is time to put this problem on the table, so that our leaders can find solutions for it."
Mosimane had earlier criticized the International Football Association "FIFA" and "France Football" magazine, which is responsible for the Ballon d'Or awards, for neglecting African coaches and players in the nominations, despite their great achievements.