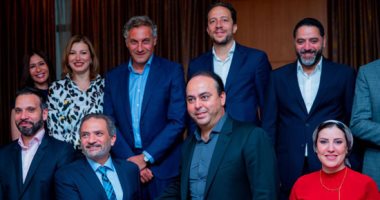 The United Trading and Distribution Company and Bayer's Consumer Health Division signed an agreement to facilitate the import and distribution of a select group of Bayer's "over-the-counter/OTC" medical product portfolio in the presence of Dr. Mohamed Galal, Vice President and Head of Consumer Health Department at Bayer Company – Middle East, and Mr. Ayman Hossam Omar, Managing Director of the United Company for Trade and Distribution, announced the signing of this contract with the aim of importing and distributing "over-the-counter / OTC" medical products in the Egyptian market. The cooperative partnership is a sign of a new strategic alliance, promising aspirations and high added value for the benefit of the consumer.
Mr. Ayman Hossam said: "We envision this valuable partnership between those two major pharmaceutical manufacturing companies (Bayer), and the distribution field (United Company for Trade and Distribution) that provides many benefits to the Egyptian market and consumer in parallel."
The most useful is the availability of basic Bayer products such as Picozyme, Bepanthen, Redoxon, Elevit, Rennie and Clarinese. All these products will be available on hand in a huge number of pharmacies in Egypt. These drugs will be spread in cities and all governorates through the largest distribution network in Egypt, which consists of more than 80 distribution branches to more than 60,000 pharmacies.
Over-the-counter (OTC) medical products play a vital role in maintaining consumer health by providing them with many options and, at the same time, reducing spending on health care. The inclusion of "over-the-counter / OTC" medicines for consumer health, which makes them also available with an emphasis on supplying them to all societies and entities that rely on experience and capabilities to meet consumer needs and facilitate their care.
Mr. Ayman Hosam added: "We are excited about this collaborative opportunity for both companies to direct the difference between "over-the-counter / OTC" and "prescription" medical products in line with global trends of manufacturing, supplying and distributing to different markets. This is an addition to building and expanding the principle of Medicinal products "over-the-counter/OTC" as a primary objective, with the supply and distribution of Bayer products agreed upon."
While Dr. said. Mohamed Galal: "At Bayer Consumer Health, our vision is to become self-care for a better life for billions of people around the world through everyday healthcare. Self-care has never been more important in helping people achieve better health and empowerment. Health care systems around the world to become more sustainable By providing access to educational tools, resources and information to improve people's daily health – through healthy lifestyle choices and effective consumer use of products to valid information and educational tools for self-care to support the idea of ​​self-diagnosis and determine the appropriate treatment – with this We have a positive impact on the life of the individual and society as a whole."
It is a great opportunity and a major mark for both the United Company for Trade and Distribution and the Consumer Health Division of Bayer to establish a strong alliance aimed at serving the healthcare needs in the Egyptian market efficiently and successfully.
About Bayer:
Bayer is a global corporation with core potential in the areas of life sciences, health care and nutrition.
Bayer's products and services are designed to help people and prosper the world through a supportive effort to control the major challenges represented by a nominally growing population, in number and age. Bayer is committed to driving sustainable development and positively impacting its businesses. At the same time, the group aims to increase its profitability and increase its value through innovation and growth. The Bayer brand represents trust, reliability and quality around the world. In fiscal 2020, the Bayer Group employed about 100,000 people and generated sales of 41.4 billion euros. Expenditures for scientific research and development against special items amounted to 4.9 billion euros.
For more information you can check our website: www.bayer.com
About the United Company for Trade and Distribution:
United Company for Trade and Distribution is the sole agent and importer of many listed pharmaceutical and FMCG companies for Fortune in Egypt. At the same time, it is the main distributor for many personal care products listed by Fortune in the pharmacy market in Egypt. The United Trading and Distribution Company serves six customer categories including group pharmacies, individual pharmacies, wholesalers, hypermarkets, supermarkets and convenience stores. The company's distributor network consists of 8 regional distribution areas that cover about 7,000 pharmacies and about 2,890 commercial outlets from hypermarkets, supermarkets and convenience stores in addition to more than 1,100 wholesalers. Supplier. The company's strategy calls for focusing its distribution services on more than 7,000 pharmacies through strict management of the major customers of those pharmacies. At the same time, he left the rest of the pharmacies to the United Pharmacists Company (UCP), which provides 100% coverage for all pharmacies operating in Egypt.